Like all the well-know brand perfume did, there are many local perfume companies are prefer to develop private perfume packaging for their own perfume brand to show their brand image,brand concept etc.,from bottle,cap,pump collar,accessory(like shoulder,base and plate) to box.
The complete customized process is as follows:
1.Design Idea/Concept
The first step is to make the concept sketch/design draft. Based on the perfect combination of the well understanding on market trend,brand understanding and customers' requirements, design team can help develop an draft of the concept sketch quickly. Then combine with the real production situation &limitation, also considered customer's budgets. Our in-house designer will choose the most suitable solution of bottle and cap's structure, caps materials and collocation to reach an optimal design which is the most consistent with origin concept.
2.3D modeling&Visual Picture
After the draft is confirmed, next step is to create model/3D drawing by software on computer. This process is to turn the idea/concept into 3D view. Our engineer team will check carefully the dimension, the structure, the matching of each part, the whole scale, then offer some meaningful and constructive ideas and tips.And they will work with designer together to work out and best but workable (in real production) solutions in 3D for your reference,comparison and confirmation. Also will offer pictures of 3D modeling in different angle to have better understanding.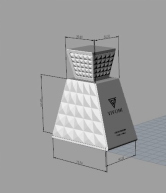 3.3D rendering Pictures
Once 3D was finished and confirmed,to help customer have a better view of their customized perfume bottle and cap' whole look and decoration effect in advance, we could help to make 3D rendering pictures(like below pics). All kinds of decorations effect (hot stamping, hand polishing,color coating, metalizing,frosting, flocking etc.) can be shown in the rendering You can notice the whole details during the rendering, the cap, the shoulder, bottle or plate with the decorations you choose.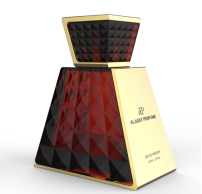 4.Prototype/Mockup
One of the services we offer is the creation of physical prototype, which you could hold in hand to check the overall effect and further finalize perfume bottle and cap mould details. As we need to create new mould for this new perfume bottle and cap design which is expensive,it is very necessary to have the prototypes/mockup to test its feasibility, so that we can avoid the risks previously in the mould and future mass production.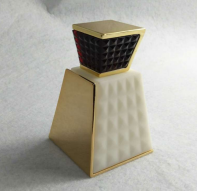 5. Technical drawing
After mockup or 3D drawing confirmed, we will offer technical drawing with detailed measurement for final confirmation before molding.
6. Molding
When all above steps are finished, we must to start the mould of perfume bottle and cap.In this process, we must follow the principle of coordination of each parts, not only perfume bottle and cap, also collar,accessories as well.
7.Samples
These sample will be use for quality and overall match check, to found and deal with future quality and coordination problems,then ensure no same problems in final production.
Flint glass bottle sample: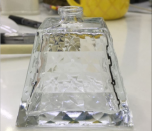 Colored perfume bottle sample & cap sample