When we make a customized packaging for your niche perfume, choosing perfume bottle shape and design(like decorations etc) is only the one part of perfume packaging process. To make sure your perfume packaging unique and exclusive in market, then we need to finish the bottle neck and choose a cap to fits your whole branding and bottle design.
The first step to choose a cap is choosing the material. There is a varity of caps to choose from,made of a wide range of material.The main materials of perfume cap in the market are Aluminum,surlyn, Acrylic,ABS(plastic),zamac and wood. Zamac metal caps are becoming the most popular and used by luxury perfume brands,like Dolce&Gabanna, Tom Ford Etc. And more high end local brand and Niche,like Aranbia Oud and do on.
Zamac is a heavy material which will let you have a feeling of quality by hand directly. Zamac cap can help complete the overall perfume package of the perfume bottles and give it a premium and high-end look.This material is kind of alloys.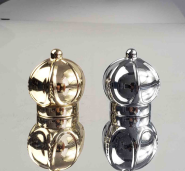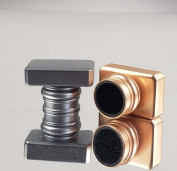 In the process of making private label perfume packaging, there is a wide range of zamac perfume caps available in market for your choices, which we called standard or public caps(as their mould are used public).The most luxury range of zamac perfume caps is customizing caps with clients' brand logo embossed or debossed with a high quality finish as well as covering them with any material required, such as leather,plastic,cloth,stones,epoxy and so on. Then you could be guaranteed your perfume cap will be unique,exclusive and stylish in perfume markets, and make your perfume stand out from other perfumes.